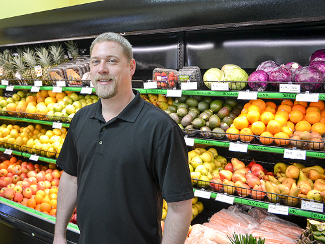 Meet The Staff: Brett, Our Back-End Manager
Brett Peschel, our back-end manager, is known just as much for his hard work ethic and exacting standards as he is for his odd sense of humor.
He was brought into the fold 14 years ago by something very special:  his relationship with Jen Peschel, our general manager, to whom he is now married.  Since then he has become a back of store jack-of-all-trades, handling responsibilities as diverse as ordering things for our grocery department, maintenance and minor repairs, to prepping produce in the morning.
Asked what it was like working with his family, he said he loved it, and that it was the most rewarding part of the job.  He also loves the rest of the staff, remarking how nice it was to work with good, genuine people.  When asked if Jen and him ever butt heads about how to run his department, he quickly answered "No, because Jen's the boss."
Favorite Supplement: N/A. Brett believes he is healthy as an ox and chooses to forego supplementing.
Fun Fact: Brett is an accomplished bowler.  He was once part of a league, and even has bowled a perfect game.