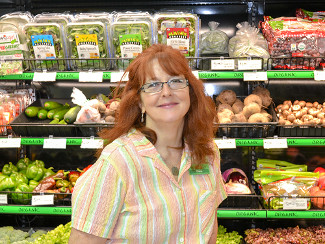 Meet The Staff: Elena Kuschner, Front-End Associate
Going on twenty years this July 2016, Elena Kuschner has become a face you can trust at Earthlight.
Elena prefers to stay out of the limelight, diligently doing projects off to the sides whenever possible, but don't be fooled:  this modest attitude belies a cutting humor, and a fascinating array of interests.
Ironically, it was not Elena's love of natural foods that brought her to Earthlight.  It was her need of a job.  Life circumstances were such that she was looking for work one day, and she ended up applying to our snack bar at our Quaker Alley location (now closed).
She is highly educated and has pursued classes in things as diverse as anatomy, physiology, and herbalism.
Favorite Supplement: Spirulina for its cleansing and detoxifying properties.
Fun Fact: Elena has studied Qi Gong/Tai Chi for approximately 15 years, and is also a level 3 Reiki practitioner.