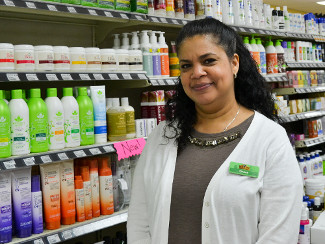 Meet The Staff: Grace, Assistant Front-End Manager
One of our veteran staff members is Grace Torres, who will be ­celebrating her 10 year anniversary here in September 2016.
Among our customers, Grace is one of our most recognized employees.  When asked what area of natural health she specialized in, she was reluctant to choose one. Nutrition, vitamin supplementation, homeopathy….one would honestly be hard-pressed to find a topic she wasn't familiar with.
When Grace joined our Earthlight family, we became bilingual. Our Spanish speaking clientele regularly seek her out and adore her.
When asked why she pursued a career in natural health, she said she was searching for alternative answers to the treatments doctors offered when she first became a parent.
When asked what her favorite part of working at Earthlight is, she said it was the customers who came back and said to her:  "Thank you so much! Your recommendation resolved my issue."  She also said her work environment was like being around family. Grace, we have to say:  we consider you to be family too!
Favorite Supplement: Fish Oil, for its multitude of benefits, like brain, joint and heart health.
Fun Fact: Grace met her husband in a New York City elevator.