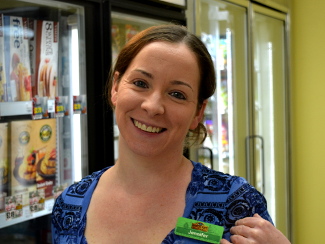 Meet The Staff: Jennifer,&nbspOur&nbspGeneral Manager
Working as General Manager for 11 years, and employed at Earthlight by her family since she was eight years old, Jennifer is the wizard behind the curtain.  She is the person who has to make sure staffing, ordering, and visuals all run seamlessly and create the one cohesive vision that we all refer to as "Earthlight".
Her favorite part of coming to work is the feeling of accomplishment she enjoys when seeing healthy and satisfied customers.
Although she does have a Bachelor of Science from East Stroudsburg University in Business Management, that's not the thing she credits for her skills.  According to her, the biggest source of training she received was from her grandfather.  At one point around the age of 10, she was bagging a customer's large purchase of Eden milks.  While still bagging, her grandfather leaned over and asked if she had restocked them yet.  This wanting-everything-done-five-minutes-ago attitude has shaped her to be an excellent manager.  She is an ace at time management and a savvy decision maker for the store.
When asked how she creates an atmosphere where employees feel a true sense of family, she replied that you don't have to create anything when you genuinely do care for them.  One visit to our beautiful store is all it takes to see all that care is evident.
Favorite Supplement:  Solgar 7, for joints, because it works.
Fun Fact:  Jen has some minor OCD issues and, when not working, she can be found at home carefully matching socks and folding all towels perfectly.