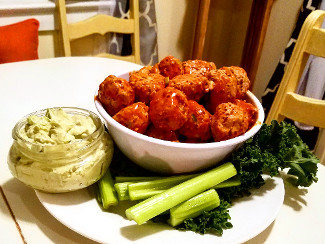 Buffalo Meatballs with Avocado Dipping Sauce
You made it through the holidays, you are on the "New Year, New You" kick, and you are doing great! But your first big test is coming up: The Super Bowl Party.
Super Bowl Sunday is usually a day of indulgence followed by a Monday of regret. But it doesn't have to be. You can have all the flavors of party food, without the guilt, with these Buffalo Meatballs with Avocado Dipping Sauce. Low fat, high fiber meatballs coated with your favorite buffalo sauce, and dipped in a creamy avocado mixture will satisfy your craving for greasy fried wings. The best part is you can substitute buffalo sauce for any of your favorite party sauces like BBQ and teriyaki to add variety.
Buffalo Meatballs
Ingredients
(serves 2)
1 pound ground chicken
1 pound ground turkey
¾ cup cooked quinoa
¼ cup hemp seeds
3 scallions, chopped
1 clove of garlic, minced
¼ teaspoon salt
¼ teaspoon black pepper
1½ cups buffalo sauce, divided
Directions
Preheat oven to 375℉ and line two baking sheets with parchment paper.

In a large bowl, combine the turkey, chicken, quinoa, hemp seeds, scallions, garlic, salt, and black pepper. Mix well.

With wet hands, roll out chicken mixture into golf ball sized meatballs. Place on baking sheet with about 1 inch apart from one another. Repeat until all of the mixture is used, making about 24 meatballs.

Bake meatballs for 20 minutes.

Remove meatballs from the oven and place all of them in a large mixing bowl. Coat with 1 cup of the buffalo sauce, mix well, and place meatballs back on the baking sheet and cook for another 5 minutes.

Remove meatballs from the oven and place them back in the bowl and coat with the last ½ cup of buffalo sauce.

Serve hot and enjoy with the Avocado Dipping Sauce recipe shown below.
Avocado Dipping Sauce
Ingredients
1 large avocado
¾ cup plain Greek yogurt
¼ cup nutritional yeast
1 tablespoon apple cider vinegar
Directions
In a medium mixing bowl, mash the avocado until it is almost completely smooth.

Add the rest of the ingredients and mix until well combined.

Serve cool and enjoy with the buffalo meatballs!