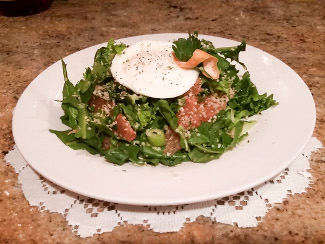 Dandelion Green and Grapefruit Salad
Dandelion greens are one of spring's most nutritious offerings. They are known to detoxify the liver, promote digestion, cleanse the blood and so much more. Even with their amazing health benefits, dandelion greens catch a bad rap because of their bitter taste. However by combining them with other greens, sweet fresh fruit, and the decadence of a poached egg you won't be able to get enough.
Ingredients
2 cups dandelion greens, roughly chopped
2 cups green leaf lettuce, roughly chopped
3 scallions, chopped
½ cup fresh flat-leaf parsley, roughly chopped
2 grapefruits
1 tablespoon Dijon mustard
1 tablespoon honey
1 clove of garlic, minced
2 tablespoons extra virgin olive oil
¼ teaspoon salt
¼ teaspoon white pepper
¼ cup hemp seeds
2 eggs
Directions
In a large bowl mix together dandelion greens, lettuce, scallions, and parsley.

Section the grapefruits, and add sectioned pieces to the greens and squeeze the reserve juice into a small bowl and set aside for the dressing.

For the dressing add the Dijon mustard, honey, garlic, olive oil, salt and white pepper to the grapefruit juice and whisk and until well combined. Pour salad dressing on greens and toss well.

Move salad onto serving plates and top with one poached egg per plate*. Top entire salad with hemp seeds and enjoy!!
* Poach the egg by filling a small sauce pan up ⅔ of the way with water and bring to a boil. One at a time crack egg into a ladle (for ease of placing into the water), reduce water to a simmer and carefully place egg into the water. Let cook for about 4 minutes or until done, and remove from water with a slotted spoon. Top egg with a pinch of salt and pepper.