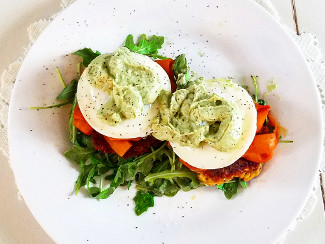 Eggs Jardin
There is nothing better than a hearty delicious breakfast to start your day off right. But sometimes those big breakfast dishes can leave you feeling over stuffed and bloated. This play on Eggs Benedict will fill you up without bogging you down. Each step is quick and simple, and best of all, everything except the egg can be made in advance. Whether you are dazzling your friends at brunch, or having a romantic breakfast with your hunny, this recipe is sure to please everyone!
(serves 2)
Squash Fritters
Ingredients
2 medium-sized yellow squash, grated
1 teaspoon salt
2 tablespoons oat flour
1 egg
¼ cup nutritional yeast
¼ cup coconut oil
Directions
Mix grated squash with salt and place in a mesh strainer, place over a bowl and let sit. After 20 minutes press as much water out of the squash as you can. You want it to be as dry as possible.

Mix together all other ingredients except for the coconut oil, in a large bowl.

Separate mixture into 4 sections and form into thin patties.

Heat coconut oil in medium skillet over medium-high heat.

Cook the patties in the oil for about 3 minutes on each side, or until golden brown and crispy.

Remove patties from skillet, pat dry with paper towels and allow to cool on a wire rack to preserve crispiness.
Carrot Bacon
Ingredients
2 medium sized carrots
½ teaspoon smoked paprika
¼ teaspoon salt
1 tablespoon coconut oil
Directions
Using a peeler, remove the outermost skin from the carrots. Once finished, hold the carrot in one hand, and peel ribbons off the carrot by pressing down firmly with the peeler. Do this to both carrots, you should have about a cup of these when you are finished.

Mix all ingredients together, and lightly sauté carrot mixture in a skillet over medium heat for about 3-5 minutes, or until the carrots start to get brown edges.
Poached Eggs
Ingredients
4 eggs
Salt and pepper, to taste
Directions
Poach the eggs by filling a small sauce pan up ⅔ of the way with water and bring to a boil. One at a time, crack egg into a ladle (for ease of placing into the water), reduce water to a simmer and carefully place egg into the water. Let cook for about 4 minutes or until done, and remove from water with a slotted spoon. Top egg with a pinch of salt and pepper.
Avocado Sauce
Ingredients
1 avocado mashed
2 tablespoons vegenaise, or mayonnaise
Juice of ½ lemon
Directions
Mix all ingredients together well. Use a hand mixer if you need help to make the mixture smooth and fluffy.
Putting all Together…
Place 2 squash fritters on each plate.

Divide carrot mixture into 4 equal parts and place on each squash fritter.

Place one poached egg on each stack.

Top each poached egg with the avocado sauce. Enjoy!