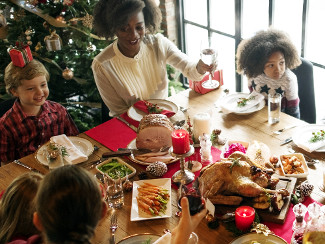 Five Easy Tips for Keeping Your Health Through the Holidays
The holidays are filled with fun and excitement. However, between holiday dinners and cookie exchanges it can be very easy to fall off the health wagon without even realizing it. Overindulgence, combined with stress and travel can really wear down your immune system. And the last thing you want is to miss out on any holiday traditions because of a cold or the flu. Here are five easy tips for staying healthy through the holidays while still enjoying them!
Stay Hydrated
Drinking adequate water is the number one thing you can do to prevent illness over the holidays. Not only does being hydrated oxygenate the blood, it also flushes out toxins and promotes healthy digestion. If that weren't enough, good hydration can also help curb hunger, and prevent overeating.
Don't Forget to Move
Many of us do not make it to the gym on holidays. Either we are too busy or the gyms are not open. However, keeping your body moving is extra important this time of year. Exercise improves blood flow, burns excess calories, and releases endorphins to keep you calm and happy during any holiday stress. Even if you can't stick to your regular workout, a simple walk around the block will do.
Don't Skip Meals
Between mom's manicotti, grandma's cookies, and whatever that amazing dip your aunt makes is, you know you are going to eat a few BIG meals over the holidays. Many of us will try to compensate by skipping breakfast or lunch to "save calories". However, by starving your body before hand you will actually eat more, spike your blood sugar higher, and slow down your metabolism.
Stay on a Schedule
No work, no school, that sounds like the perfect time to sleep late and stay on the couch all day. As fun as this sounds, our bodies thrive on routine. When we throw it out the window our bodies can freak out. By all means, slow down on your time off, but try to get up at a reasonable time, do some activity, and eat regular meals. Your digestive and immune systems will thank you.
Remember Your Greens
When you have a table full of comfort foods, it's easy to forget about your daily serving of fresh vegetables. Vegetables provide us with valuable vitamins and minerals that help keep our immune system strong. Unfortunately that cheese-laden green bean casserole does not count as a vegetable. Be sure to include some roasted, grilled, or fresh veggies in your holiday feast. If they won't be offered by your host, try adding a green juice or smoothie earlier in the day to make up for it.
So travel to the other side of the country, have your favorite holiday treats, and stay up late reminiscing with loved ones. But don't forget to take care of yourself in the middle of it all. If you stay hydrated, exercise, don't skip meals, keep to a fairly regular schedule, and eat lots of greens you will be healthy and happy through all of your joyous occasions.