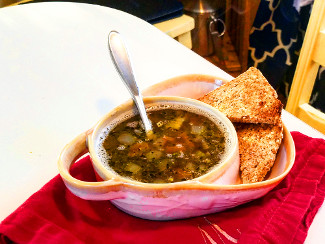 Good Luck Lentil Soup
January is National Soup Month, and thank goodness! There is nothing better than a hot bowl of soup on a cold winter's night. Combine that with the spirit of the new year and you have Good Luck Lentil Soup.
Dating back to Roman times, lentils have been considered good luck to eat in the new year. So when the nights are cold like they are now, get the stove going and enjoy this delicious, hearty soup, and share some good luck with a loved one.
Ingredients
(serves 2)
2 tablespoons extra-virgin olive oil
5 cloves of garlic, minced
1 medium onion, chopped
1 medium carrot, chopped
2 celery stalks, chopped
1 teaspoon fennel seeds
1 bay leaf
1 teaspoon Italian seasoning
2 teaspoons salt (or to taste)
1 teaspoon pepper
1 cup dried French lentils
8 cups of water
Directions
In a large stock pot, heat olive oil over medium heat. Add garlic, onion, celery, and carrots to pan and saute until vegetables become soft and fragrant, about 5 minutes.

Add the fennel, bay leaf, Italian seasoning, salt and pepper to the mixture and saute for another 2 minutes, until well combined.

Add lentils to the mixture, saute for another 1 minute continuing to stir.

Once well combined, add the water to the stock pot and stir all ingredients together.

Bring mixture to a boil, cover with lid, reduce heat to a simmer and cook for 35 minutes or until the lentils are cooked through.

Enjoy with your favorite bread or crackers.