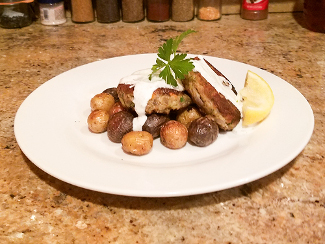 Happy Earth Fish Cakes with Dill Tzatziki Sauce
In honor of World Environmental Day, it is only appropriate that this recipe has a main ingredient that is sustainable and delicious: Sardines! Sardines are a small white fish that contain a ton of healthy unsaturated fat. They are one of the most sustainable animal proteins and have a very versatile taste. This recipe will wipe away any images of the salted slimy fish of the past and have you wanting to add sardines into your regular diet. Enjoy this delectable dinner with a clear conscious!
Ingredients
(serves 2)
2 cans of sardines, oil packed
¼ cup red onion, diced
⅓ cup carrot, diced
⅓ cup celery, diced
⅓ cup orange bell pepper, diced
¼ cup fresh flat leaf parsley, chopped
1 clove of garlic, minced
2 teaspoons dried dill, separated
1 egg
1 very ripe avocado, mashed
¼–½ cup, plus 2 tablespoons coconut oil
6 ounces plain Greek yogurt
Juice of ½ lemon
Lemon Wedges
salt and pepper, to taste
Directions
Place the 2 tablespoons of coconut oil in a medium sauté pan over medium heat. Add onion, carrot, celery, pepper, and garlic. Sauté until onions become opaque and mixture is fragrant, about 3-5 minutes. Remove from heat and place in medium mixing bowl.

Drain sardines of any excess oil and mix fish into sautéed vegetables.

In a separate small bowl whisk together avocado, egg, parsley, 1 tsp dill, and a pinch of salt and pepper until it has a smooth consistency.

Add egg mixture to the bowl with the sardines and vegetables, mix until well combined and place in the fridge for 10 minutes.

While the sardine mixture is in the fridge, make the tzatziki sauce by combining the yogurt, 1 tsp dill, and lemon juice and put aside.

After 10 minutes, divide the fish cake mixture into four equal parts and form into patties.

Heat a sauté pan and fill ¼-inch high with coconut oil over medium high heat. Place patties into pan one at a time and cook until browned on each side, 2-4 minutes per side. Pull cakes off pan and allow them to cool on a paper towel lined plate to absorb any excess oil.

Once cooled, place two cakes onto plate with your favorite sides, top with tzatziki sauce, serve with a lemon wedge and enjoy!