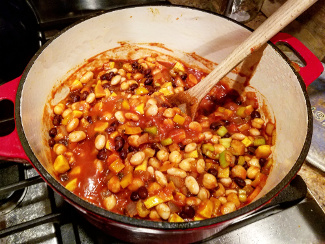 Heart Healthy Chili
There is nothing better on a cold day than a delicious bowl of chili. But let's be honest, although chili is hearty, it's not always the best choice for your heart. Heavy meats and cheeses are filled with saturated fats known for raising cholesterol.
Not to worry, because this Heart Healthy Chili recipe allows you to have the warm filling flavors of chili while helping lower your cholesterol. It is jam packed with fiber and other nutrients that have been proven to help lower cholesterol.
Ingredients
(serves 2)
2 tablespoons extra-virgin olive oil
1 large white onion, diced
4 cloves of garlic, chopped
2 medium carrots, chopped
2 stalks celery, chopped
1 yellow squash, chopped
1 orange pepper, chopped
Salt and pepper, to taste
1 teaspoon ground cumin
½ teaspoon ground coriander
1 teaspoon paprika
½ teaspoon chili powder
½ teaspoon adobo seasoning
1 chipotle pepper in adobo sauce, chopped plus 1 tablespoon of the adobo sauce
½ teaspoon curry powder
1 32 oz. can of tomato sauce
2 tablespoon honey
1 teaspoon vanilla extract
1½ cups cooked black beans, or 1 can
1½ cups cooked cannellini beans, or 1 can
1½ cups chickpeas, or 1 can
1 bunch of scallions, chopped
2 cups of cooked quinoa
Plain Greek yogurt for topping
Directions
In a large stock pot, heat the olive oil over medium heat and saute the garlic and onions until they are translucent and fragrant, about 3-5 minutes.

Add the salt, pepper, cumin, coriander, paprika, chili powder, and adobo seasoning to the garlic and onions, mix well and saute for 1 minute more.

Add the carrots, celery, squash, and orange pepper to the mixture and saute until the vegetables begin to soften.

Once the vegetables have soften, add the adobo pepper and sauce, tomato sauce, honey, and vanilla extract and stir until well combined.

Allow the mixture to simmer uncovered for 10 minutes, then add in the beans.

Allow mixture to continue to cook for another 10 minutes or until the mixture is hot all the way through.

Serve over quinoa and top with the Greek yogurt and chopped scallions. Enjoy!