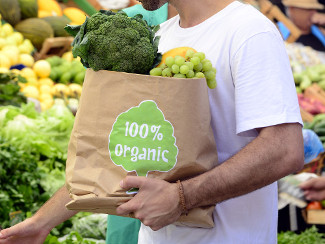 How to Shop Organic Without Breaking the Bank
September is Organic Harvest Month and that means it is time to celebrate all the wonderful reasons to buy and eat organic foods! The benefits are endless, not just for our body but for the earth as well. However, no matter how many articles you read preaching about organic food, if you can't afford it, it's not going in your cart. But organic does not have to empty your pockets. Here are a few simple ways you can afford to buy organic food.
Think Outside the Big-Box Stores
Ever since they started popping up in every county across the nation, big box stores lure you in by claiming they have the lowest prices. However, what most people don't know, is that when it comes to fresh organic foods, your local natural grocer or health food store have some pretty great deals. Most of these smaller family owned stores belong to national associations whose sole purpose is to get quality food to these stores for less. Why is this important? Because it saves you money, a lot of it. Check out the flyer for your local health food store and you'll see they have great sales, most of which last for a month. This means no scrambling around to find recipes for the deal of the week. So take a deep breath, and venture over to the friendly confines of your favorite health food store and see the savings you have been missing.
Buy in Bulk
Buying in bulk is a well-proven way to save money. However, until recently finding a place to buy anything other than toilet paper and shampoo in bulk has been a struggle. Luckily many health food stores and big chain retailers have started creating bulk food sections that include everything from dried fruits and nuts to grains and legumes. Buying in bulk will not only save you money, but in the long run it allows you to buy exactly what you need so there will be no unused leftovers clogging up your pantry.
Don't worry, the savings do not stop at nuts and seeds. Many local butchers and farmers will allow you to buy meat in bulk as well. Some farmers will sell you a half or quarter of an animal. And your butcher may have family value packs. Also, don't be afraid to ask. Just because there isn't a giant sign hanging in the window doesn't mean it is not offered.
Join a Co-Op
There are many produce cooperative or farm sharing opportunities out there. Co-ops used to be reserved for those "earthy" types who wanted to be a part of a small health food store to save a little money and support the movement. But don't worry, you don't have to grow dreadlocks or sacrifice your Saturday mornings to benefit from a co-op anymore. There are many produce co-ops you can join that require nothing more than a check and for you to pick it up. There are even some that will deliver right to your door. Buying fruits and vegetables this way can save you almost $1000 per year! That's huge!
Make your own Sauces and Seasonings
And because pre-made conveniences are usually the most expensive part of a shopping list, especially if you are buying organic, the day it may take to put together a pantry filled with homemade goodies is worth the thousands of dollars saved in the long run. Don't want to make everything yourself? Get a few friends together, each of you makes one thing, and then exchange with each other.
Eat Seasonally
I know your favorite vegetable is asparagus, but it is only in season for a few weeks, and other than those few weeks it can cost as much as $4.99/lb. When produce is in season, it is significantly cheaper. Instead of emptying your pockets for the same few fruits and veggies every week, branch out and try something new that is in season and on sale. You may have to search out some new recipes but you will be surprised to find how delicious new food can be.
Prioritize
No one wants to hear this last suggestion, but sometimes we need a reality check to get our priorities in line. Many times I hear people complaining that items like organic eggs are double the price of regular eggs. Yes, that is a two to three dollar difference per dozen eggs, but how much do you spend on luxuries that are not doing your health or the planet any good? How much does your daily latte cost? How many times do you go out to eat? Was that tenth pair of jeans necessary? Do you really need to get your hair colored every two months? Just some food for thought.
Buying organic doesn't have to break the bank. If you prioritize your health, shop smart and seasonally, buy in bulk, and do a few things yourself, a fully organic lifestyle is attainable. Your body, the earth, and future generations thank you in advance for making these smart choices.