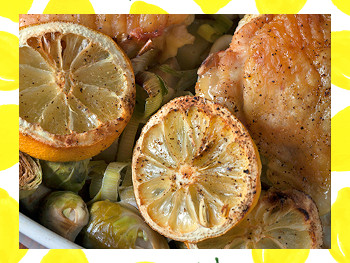 Lemony Chicken with Brussel Sprouts and Leeks
Lemon brings bright, crisp flavor to this healthy dinner for two.
Ingredients
(serves 2)
2 cups brussels sprouts
2 cups sliced leaks
3 cloves garlic, chopped
3 tablespoons fresh lemon juice
1 tablespoon plus 1½ teaspoon extra virgin olive oil
¼ teaspoon salt
½ teaspoon black pepper
4 bone-in, skinless chicken thighs (approximately 1½ pounds), fat trimmed
1 lemon, sliced
Directions
Preheat oven to 350˚. In a medium bowl toss brussels sprouts, leek and garlic with lemon juice, 1 tablespoon olive oil, salt and pepper. Spread vegetables in an even layer in a medium baking dish.

Place chicken thighs over vegetables. Brush chicken with remaining ½ teaspoon olive oil, and season with salt and pepper. Top with lemon slices. Bake uncovered for 1 hour, or until the chicken is golden brown and measures 165˚ on a meat thermometer inserted in deepest part of thigh (not touching a bone).