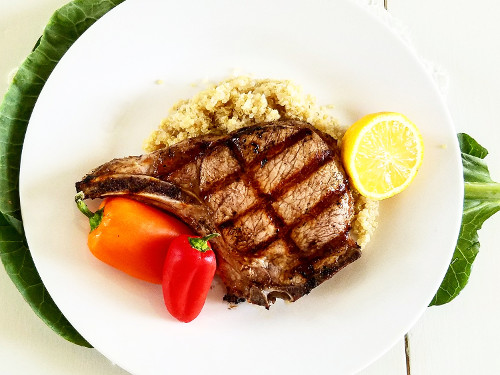 Light & Sweet BBQ Pork Chops
Most everyone loves BBQ, there is something about the sweet and tangy sauce, on charred meat that makes it irresistible. But some sauces have an enormous amount of sugar in them. These pork chops will satisfy your BBQ craving without spiking your blood sugar and ruining your diet. Pair them with your favorite sides and have a great dinner without the excess sweetness.
Ingredients
(serves 2)
4 bone-in pork chops
Salt and pepper
1 teaspoon allspice
Juice of ½ lemon
2 tablespoons apricot preserves
½ teaspoon ground white pepper
½ teaspoon salt
½ tablespoon garlic powder
¼ cup extra virgin olive oil
Directions
Pre-heat grill to medium-high heat.

Place pork chops in a shallow dish and season with salt and pepper.

In a small bowl whisk the rest of the ingredients together

Cover pork chops evenly with spice mixture, cover and place in refrigerator for 20 minutes to marinate.

Place pork chops directly on the grill and allow to cook for about 4 minutes on each side, or until they are cooked to an internal temperature of 145 degrees F.

Remove from heat and let sit for 5 minutes before serving with your favorite BBQ sides.