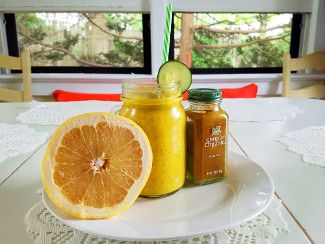 "Liquid Sunshine"
(AKA Golden Beet and Turmeric Anti-Inflammatory Smoothie)
Summer is here! And the best way to beat the heat is to have a refreshing drink. This Liquid Sunshine smoothie will not only help you cool off, but give you a ton of antioxidants, which help reduce inflammation and promote health. It is loaded with superfoods like turmeric and chia seeds, paired with hydrating cucumber and sweet honey.
Liquid Sunshine will be your new favorite summer addiction.
Ingredients
(serves 2)
8 ounces grapefruit juice, about one grapefruit
½ of one cucumber, peeled
1 tablespoon coconut oil
1 teaspoon ground turmeric
1 tablespoon honey
2 teaspoons chia seeds
½ cup, or 1 medium golden beet, preferably roasted*
*Beets can be used raw, however, roasting them brings out a little extra sweetness. To roast the beets: Peel beets and toss in just enough coconut oil to coat them. Cook covered at 375F for about 40 minutes or until fork tender.
Directions
Place all ingredients in a blender. Blend until all ingredients are well mixed and smooth.

Enjoy!