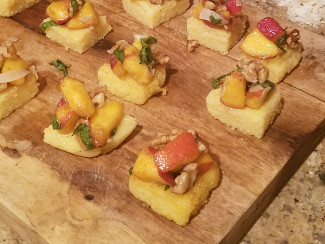 Polenta and Peach Basil Chutney Bites
Peaches are so juicy and delicious that, when they are in season, I just want to use them in every recipe. These poppable bites, showcase just how delicious and versatile this amazing fruit can be. Serve these as an appetizer at your next party, and you will be sure to wow all your guests. Don't want to share? No problem, serve them with your favorite protein to make a complete meal. Even better yet, a scoop of vanilla ice cream makes this the perfect summer dessert!
Ingredients
(serves 2)
1 cup polenta (yellow cornmeal)
⅓ cup nutritional yeast
salt and pepper, to taste
4 tablespoons coconut oil, divided
3 large peaches, pitted and chopped
⅓ cup roasted walnuts
¼ cup unsweetend coconut flakes
½ cup fresh basil, roughly chopped
Juice from half of a lemon
½ teaspoon cinnamon
2 tablespoons honey
Directions
Start by making the polenta. Bring 4 cups of water to a boil in a heavy large saucepan. Add a pinch of salt and pepper. Add in the polenta gradually, while whisking the entire time. Reduce heat to a simmer, and cook until the mixture thickens and the polenta is tender, stirring often, about 15 minutes. Once finished cooking, turn off the heat, add nutritional yeast and 2 Tbsp coconut oil, and mix well.

Pour polenta into a 8x8 square pan and allow to cool in refrigerator until solid, about 1 hour.

While the polenta is cooling, make the peach chutney. Mix the peaches, walnuts, coconut, basil, lemon juice, cinnamon, and honey together in a medium sized bowl. Be sure peach mixture is well combined and set aside.

One the polenta has cooled, cut it into 16 pieces and remove from the pan.

Heat the remaining 2 Tbsp of coconut oil in a medium sized skillet. Pan fry each piece of polenta until golden brown, about 2 minutes on each side. Remove from pan and place on a paper towel lined cooling rack to absorb excess oil.

Now assemble each bite, by placing the polenta on your serving dish, and topping each piece with 2 Tbsp of peach chutney.

Enjoy!