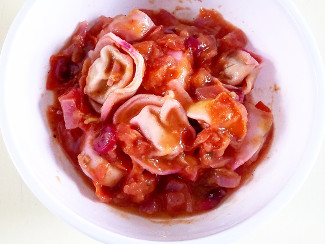 Pumpkin Tortellini with Cranberry Marinara Sauce
Nothing is better on a cold night than a warm bowl of pasta. Except pumpkin! Pumpkin anything is fantastic. Luckily you don't have to choose between the two. This mouth watering dish combines the comfort of pasta with the taste of fall. Fresh cranberries and warm spices add a twist to your traditional marinara sauce, making the perfect partners for a decadent tortellini.
Ingredients
(serves 2)
1 pound of pumpkin tortellini*
2 tablespoons of extra virgin olive oil
½ of a red onion, chopped
1 clove of garlic minced
1 cup fresh cranberries
½ cup of white wine
Pinch of salt
¼ teaspoon ground white pepper
¼ teaspoon of cardamon
¼ teaspoon of allspice
¼ teaspoon of sage
Zest of one lemon
2 tablespoons of honey
6 large plum tomatoes, chopped
*If you cannot find pumpkin tortellini, it can be replaced with cheese tortellini, gnocchi, or your favorite hearty pasta.
Directions
In a large sauce pan, heat the olive oil over medium heat and saute the onion and garlic until they become translucent and fragrant, about 3-5 minutes.

Add cranberries to saucepan and saute until they begin to blister, about 3-5 minutes.

Deglaze pan with white wine and continue to cook.

Add spices and lemon zest and cook until the mixture begins to thicken.

Once mixture has thickened, add tomatoes and honey. Stir well and and let cook covered over medium-low heat until tomatoes are completely broken down, about 25 minutes.

While the sauce is cooking, cook tortellini in salted boiling water for 8-10 minutes, or according to package directions, place in large serving bowl and set aside.

Once sauce is finished, pour over tortellini, mix well and serve.