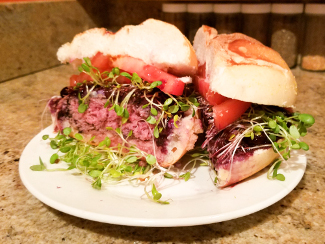 Red, White, & Blue Burger
Burgers are the epitome of American Cuisine. In fact, as a nation, we consume nearly 50 billion hamburgers a year. So how in Uncle Sam's name can we make this long time favorite any better than it already is? How about we crank up the taste and the patriotism with this Red White and Blue Burger. The basic burger patty is turned into a palate and eye pleasing masterpiece with brie cheese, blueberry compote and fresh tomatoes. You are sure to be the talk of the block party with these unique burgers.
Ingredients
1½ pounds of 85% ground beef*
salt and black pepper, to taste
8 ¼ inch thick slices of brie cheese
4 brioche buns, sliced in half
1 cup blueberry compote (see recipe below)
1 large ripe tomato, sliced into 4 thick slices
1 six-ounce container of sprouts
For our vegetarian friends: don't be afraid to substitute your favorite veggie burger here, instead.
Directions
Divide the meat and gently separate into 4 parts, form each section into a patty, and make a small well in the center of each patty with your thumb (Don't overwork the meat or it will become dry and tough). Season patties with salt and black pepper.

Preheat a grill to medium high and oil the grates. Grill the burgers, covered, about 6 minutes per side. In the last 3 minutes, top each burger with 2 slices of brie cheese.

Remove burgers from the grill and allow to rest for 2 minutes.

Build your burger by placing one cheese topped patty on to bottom bun, and top it with blueberry compote, a small handful out sprouts and 1 slice of tomato, cover with top of bun and enjoy!
Blueberry Compote
Ingredients
2 cups blueberries
2 tablespoons honey
Zest of one lemon
2 tablespoons lemon juice
½ cup fresh basil, chopped
Directions
Place blueberries into saucepan and place over medium low heat until berries starts to break down, about 2-3 minutes.

Add honey, lemon zest, lemon juice, and continue to cook until mixture is thickened and well combined, about 5 minutes.

Remove from heat, stir in basil and set aside.