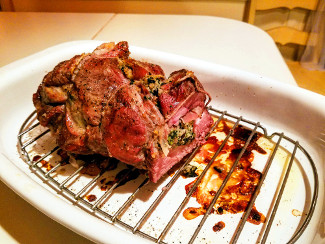 Stuffed Double Pork Roast
It's Sunday afternoon, and you are making your weekly shopping trip. You have an ingredient list for a delightful stuffed pork loin, but when you get to the butcher they are all out of them! Tragedy.
What are you going to do with all these ingredients now? Luckily, for you, the local butcher is super knowledgable and informs you that you could use a different cut of pork with the same ingredients to make your masterpiece. It comes out great and the family loves it.
This is the true story from my past Sunday and the perfect share for our National Pork Month celebration. Pork chops and pork loin recipes dominate our favorite Pinterest boards, but there are so many other cuts of pork that are just as tasty and even less expensive. This month talk to your local butcher and expand your pork pallet. If you're afraid to go off on your own, try this delicious Stuffed Double Pork Roast to start!
Ingredients
(serves 2)
2½ pounds bone-out pork butt (shoulder) roast, butterflied and able to roll
Salt & Pepper
½ cup cooked quinoa
¼ cup almond meal
4 kalamata olives, chopped
1 garlic clove, minced
¼ cup sauteed spinach
Juice of one-half lemon
1 teaspoon dried basil
3 slices of prosciutto
Butcher's twine
Directions
Preheat oven to 350℉

Season the roast with salt and pepper, and set aside.

In a medium sized bowl, mix together quinoa, almond meal, kalamata olives, garlic, spinach, lemon juice, and basil until well combined.

Line the roast with the slices of prosciutto, and layer the quinoa mixture evenly over them.

Roll up the roast and tie it closed with the butcher's twine. Place the roast on the rack of a shallow roasting pan for cooking.

Place in oven and cook for 1 hour and 10 minutes, or until the meat reaches an internal temperature of 145-160℉, depending on your preference.

Let rest for 10 minutes, slice, and serve with your favorite sides!