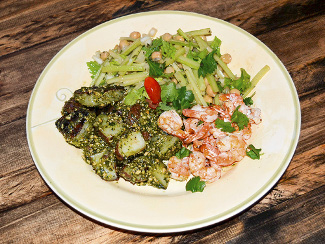 Tequila Lime Shrimp With Cilantro Pesto Grilled Red Potatoes
This romantic meal for two makes the perfect date night selection. Its over the top flavor will have your mouth watering for days, and it's simple steps will leave you more time to spend with the one you love.
Ingredients
Tequila Lime Shrimp
1 lb. large shrimp, cleaned and deveined
Juice of 1 lime
3 cloves of garlic, minced
1/4 tsp salt
1/4 tsp ground pepper
2 T extra-virgin olive oil
1/4 c. silver tequila
4 bamboo skewers
Cilantro Pesto Grilled Red Potatoes
1 lb. red potatoes, cut in half
1/2 cup extra-virgin olive oil, plus 2 tablespoons, separated
1/4 tsp salt
1/4 tsp ground pepper
1 c. cilantro
1 clove of garlic
1/4 c nutritional yeast
1/4 c cashews
Directions
*If you want both the shrimp and the potatoes to be done at the same time, take advantage of the long marinating time of the shrimp, and longer cooking time of the potatoes.
Preheat your grill to medium-high temperature. Place the bamboo skewers in a container of warm water. Be sure they are completely submerged—this will keep them from burning up on the grill.

Make the cilantro pesto by combining cilantro, cashews, garlic, salt, pepper, nutritional yeast, and 1/2 c of olive oil into a food processor or blender, and pulse until smooth. Set aside until needed.

Create the shrimp marinade by mixing together the lime, garlic, salt, pepper, olive oil, and tequila in a medium bowl. Add the shrimp to the marinate, stir to ensure even coating, and place the bowl in your refrigerator for 20 to 30 minutes.

While the shrimp is marinating, evenly coat the potatoes with the 2 tablespoons of olive oil, and season with salt and pepper. Place them on the top rack of the grill and let them cook for 25 to 30 minutes, or until they are fork tender.

After the potatoes have been on the grill for approximately 15 minutes, remove the shrimp from the refrigerator, and carefully place them on the skewers (about 4 to 5 shrimp per skewer). Place the skewers on the grill, and cook for about 5 to 7, turning halfway through. You will know the shrimp is fully cooked when it has a nice pink color on the outside, and the inner flesh will be opaque. Remove the shrimp and potatoes from the grill. Combine the potatoes with the cilantro pesto. Serve with your favorite salad or vegetable. Enjoy!