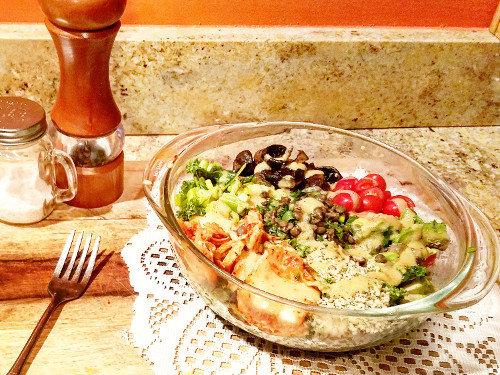 The Big Salad
"Salad" the bland nightmare of every dieter right? Wrong! Salads are a blank canvas with endless potential for a flavor masterpiece. Just like this Big Salad. It's bold flavors will leave you fully satisfied. The best part is, The Big Salad is a whole meal with proteins, carbs, fats, probiotics, and tons of vitamins and minerals. It's so good, you won't be able to put it down.
Ingredients
(serves 2)
For the Salad
2½ cups of kale, ripped into small pieces
2 tablespoons lemon juice
⅛ teaspoon salt
1 tablespoon extra virgin olive oil
1 tablespoon nutritional yeast
½ cup French lentils, cooked
¼ cup cilantro, chopped
½ avocado, chopped
¼ cup hemp seeds
½ cup grape tomatoes, halved
¼ cup sautéed mushrooms
3 scallions, chopped
½ cup kimchi
salt and pepper, to taste
For the Dressing
1 tablespoon tahini
1 tablespoon Dijon mustard
1 small clove of garlic, minced
2 tablespoons extra virgin olive oil
2 teaspoons apple cider vinegar
salt and pepper, to taste
Directions
In a large bowl combine kale, olive oil, salt, lemon juice, and nutritional yeast. Massage mixture for 3 minutes until the Kale leaves become soft and place mixture into serving bowl.

In a separate small bowl mix together the lentils, salt, pepper and cilantro and place on top of the kale mixture directly in the center of the bowl.

Take the rest of the ingredients and place in piles around the lentils.

To make the dressing whisk together all ingredients until well combined and drizzle dressing over salad in a circular pattern.

Serve and enjoy immediately!