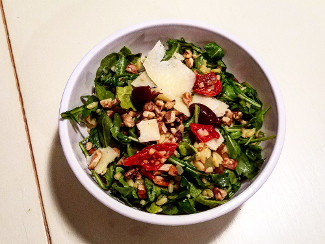 Winter Orzo and Arugula Salad
Just because summer is over, doesn't mean we have to say goodbye to salads too. This warm winter salad will fill you up, without weighing you down. Perfect alone, or topped with your favorite protein, it will soon become a family favorite.
Ingredients
(serves 2)
5 ounces (about 5 cups) baby arugula
12 ounces orzo pasta, cooked al dente
4 tablespoons extra-virgin olive oil
4 cloves of garlic, minced
1 small onion, chopped
¼ cup kalamata olives, roughly chopped
¼ cup sun-dried tomatoes, roughly chopped
½ cup cherry tomatoes, halved
½ cup white wine
½ cup fresh flat-leaf parsley, chopped
⅔ cup golden raisins
1 cup parmesan cheese, shaved
1 cup walnuts, chopped
Directions
Place the arugula in a large bowl and set aside.

Cook walnuts in a dry frying pan over medium-low heat, until fragrant and toasted, about 5 minutes. Remove from heat and set aside.

In a medium saucepan, heat olive oil over medium-high heat. Add garlic and onions and saute until onions become translucent, about 3-5 minutes. Add sun-dried tomatoes, kalamata olives, and cherry tomatoes to garlic and onions, and continue to cook for another 5 minutes.

Deglaze pan with the white wine and allow alcohol to cook off.

Mix in parsley and remove from heat. Add orzo pasta to the saucepan and stir until well combined.

Add the pasta mixture, and golden raisins into the arugula, and mix well. Top with toasted walnuts and parmesan cheese.

Serve warm.