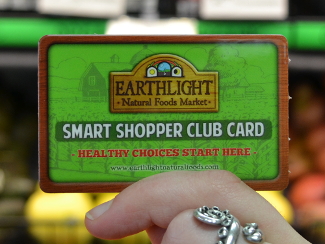 Maximize your savings as a Smart Shopper Club member!
Want to save the hassle of finding coupons?
Sign up for Earthlight's Smart Shopper Club!
Benefits include:
Save 10% everytime you shop.
Save 15% during our Sale Weekend plus extended savings days on the Friday and Monday of Sale Weekend.
Enjoy a 15% all-the-time discount on full case orders.
Being a club member also entitles you to special product promotions.
Stop in, pick up your application, and start saving today!
TERMS AND CONDITIONS: Annual non-refundable fee applies. 6 Month Membership = $30, 1 Year Membership = $50. Club membership entitles you to a 10% discount every time you shop & 15% on Sale Weekend, but excludes produce, meats, and items already on sale. Club membership is non-transferrable and cannot be combined with any other coupons, discounts, or other offers.