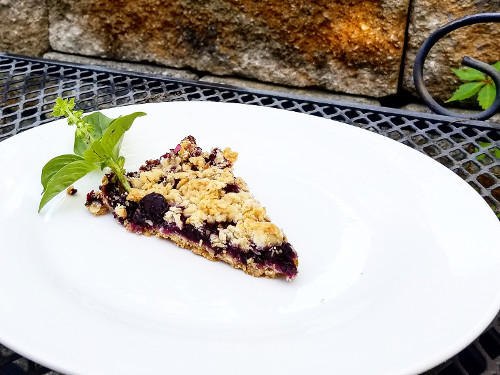 Blueberry Crumble
It is officially the best time of year, blueberry season! And you want to take full advantage of it. So you go blueberry picking at the local farm and have so much fun you don't realize you have picked ten pounds! There is only so much blueberry jam you can make, and not enough room in the freezer for the rest of them. What to do? This mouth watering blueberry crumble is the answer you have been looking for. It is a light and refreshing dessert that you won't be able to get enough of. So make enough for everyone, because the best part is, it's a quick and easy recipe.
Ingredients
(serves 2)
Crumble
½ cup coconut oil, melted
1 cup oat flour
¾ cup oats
2 tablespoons coconut sugar
¼ cup honey
Pinch of salt
1 teaspoon cardamom
Blueberry
2 cups of blueberries, fresh or frozen
⅓ cup of honey
2 tablespoons lemon juice
Zest of one lemon
2 teaspoons cornstarch
Directions
Preheat oven to 350℉

Line an 8 inch pie pan with parchment paper and grease with coconut oil.

Make the crumble by combining all the ingredients together and mix well.

Measure out one side of the crumble mixture and set aside. Use the rest to make the crust, by pressing the mixture into the prepared pan with your fingers. Make sure it is smooth, flat and covers the entire bottom of the pan and just starting to come up the sides of the pan.

Make the blueberry filling by combining all the ingredients and mixing well.

Place blueberry filling on top of the crust already in the pan, and be sure to distribute it evenly over the entire surface.

For the crumble on top, take the reserved crust mixture and place on top of the blueberry mixture in quarter size pieces. Try to cover surface as evenly as possible.

Bake uncovered for 45-50 minutes or until the top crumble starts to become golden brown.

Remove from oven and let cool for 20 minutes before serving.

Serve all by itself or with homemade whipped cream for a richer dessert and enjoy!