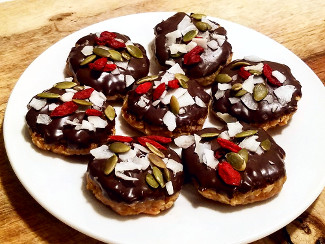 No-Bake Trail Mix Cookies
Cookies are a holiday favorite. And there is no reason you can't have your cookies without going into sugar overload. These "No Bake Trail Mix Cookies" take a healthy spin on the classic no bake oatmeal cookie and combine them with your trail mix favorites. They are low in sugar, high in antioxidants, and delicious. You won't be able to get enough of these yummy treats!
Ingredients
(serves 2)
¼ cup coconut oil
½ cup milk
¼ cup honey
3 cups quick cooking oats
1 teaspoon vanilla extract
1 cup peanut butter
1 cup dark melting chocolate
⅓ cup goji berries
⅓ cup pumpkin seeds
⅓ cup dried coconut oil
Coarse sea salt
Directions
Place the oats in a large mixing bowl.

In a small saucepan, combine the coconut oil, milk, and honey. Bring to a quick boil for 1 minute and pour over oats.

Add peanut butter and vanilla to the oat mixture. Mix together until well combined.

One heaping tablespoon at a time, form cookies by rolling dough into a ball and then flattening them to about a ¼ inch thick. Place on a wax-paper–lined cookie sheet. Repeat until all dough is used.

Allow cookies to cool for about 5 minutes.

While the cookies are cooling, melt the chocolate, either in a double boiler or in the microwave.

Once cookies are cool and the chocolate is melted, dip the top of the cookies in the chocolate, and place back on the wax paper, chocolate facing up. Repeat with every cookie.

Before the chocolate cools, sprinkle about 3 goji berries, 5 pumpkin seeds, a teaspoon of coconut, and a pinch of coarse sea salt on top of the chocolate.

Allow the chocolate to harden, serve immediately, or store in a cool dry place.