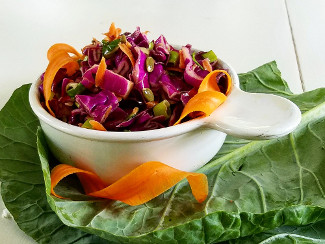 Red Cabbage Slaw With Coriander Vinaigrette
Cole slaw is a summer favorite, and this light and fresh version is going to be a hit. Its beautiful colors and pops of fresh flavor are good enough to eat all by itself. Not to mention the nutrient power punch it provides, containing a ton of antioxidants like Vitamins A, B, C, zinc, iron, and calcium.
Ingredients
(serves 2)
½ red cabbage, chopped
4 scallions, diced
2 carrots, grated
½ cup pumpkin seeds
½ cup fresh cilantro, chopped
¼ cup extra-virgin olive oil
⅛ cup Dijon mustard
¼ teaspoon sale and pepper
1 teaspoon ground coriander
1 tablespoon honey
1 tablespoon apple cider vinegar
Directions
In a large bowl mix together the first 5 ingredients.

In a small bowl whisk together the rest of the ingredients.

Combine the dressing with the cabbage mixture. Mix well and let sit for 30 minutes.

Serve cold, as a side or as a stand alone salad.