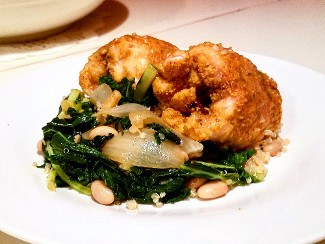 Sweet Potato Chicken
Instead of being devastated about my bag of sweet potato chips being crushed, I decided to make a fall themed stuffed chicken. What a better way to enjoy the flavors of fall, than to roll it up in a sweet potato crusted chicken thigh? Hearty, yet light, this dish is gluten free, paleo friendly, and most importantly, delicious!
Ingredients
(serves 2)
Honey Mustard Sauce
¼ cup Dijon mustard
¼ cup Champagne vinegar
2 tablespoons honey
½ teaspoon dill
½ teaspoon paprika
Sweet Potato Chicken
8 boneless, skinless chicken thighs
Salt and pepper, to taste
2 cups sweet potato chips
1 red apple, cored, skinned, and chopped
¼ cup dried cherries, roughly chopped
⅓ cup hemp seed
½ teaspoon paprika
½ teaspoon coriander
Directions
Place all the honey mustard ingredients into a small bowl and whisk until well combined.

Preheat oven to 375℉.

In a medium bowl, combine the apple, cherries, hemp seeds, paprika, and coriander. Mix well and set aside.

Place sweet potato chips in food processor and pulse until they become the consistency of breadcrumbs. Once done, pour sweet potato crumbs into a shallow dish.

Season chicken with salt and pepper. Bread and stuff each piece of chicken as follows:

Place chicken thigh into the sweet potato bread crumbs and cover chicken completely on all sides and flatten out on a clean separate plate.

Place about ⅛ cup of the apple mixture into the center of the chicken thigh and roll the chicken up around the filling.

Place chicken into baking dish, seam down.

Once all of the chicken has been breaded and stuffed, cook them in the oven, uncovered, for 33 minutes.

Pull dish out of the oven. Drizzle the tops of the chicken with olive oil, place back into the oven and broil for 5 minutes or until the tops of the chicken begins to brown.

Cover with honey mustard sauce and serve (see recipe for sauce below).